Youth in Government, Club Advisor: Anita Nation  (anation@cherokeek12.org)
PURPOSE: To prepare outstanding, motivated, high achieving young people for moral and political leadership in the American Democratic Process by providing guidance, training, and experience in the theory and practice of determining public policy.
SKILLS FOR A LIFETIME: Youth-in-Government provides students with an opportunity to learn and practice core skills that they will use the rest of their lives including:
·How to conduct research,
·How to build organizational leadership,
·How to apply decision-making and problem-solving skills,
·How to better communicate, debate, negotiate, compromise, persuade, and listen to others.
CIVIC RESPONSIBILITY: ·Provides students with opportunities to discuss real world issues and to learn about state politics.
·Prepares students for life through the development of all these skills--making them more knowledgeable, open-minded, and civic-focused citizens who care about others.
·Provides a challenging academic experience and an opportunity for personal development.
THE Y DIFFERENCE: While there are many notable organizations and activities that our youth may participate in, YMCA programs provide students with the unique opportunity to participate in servant leadership. 
Each Y program helps students learn to care about their community, to embrace civic and social responsibility and to display the YMCA core values of honesty, caring, respect and responsibility.
ALL YOUTH GOV MEMBERS ARE ELIGIBLE TO REQUEST FINANCIAL ASSISTANCE FROM THE YMCA for any conference or event inlcuding, bur not limited to, Junior & Senior Youth Legislature, Youth Judicial, Officer Training, CONA, National Judicial Conference/
CLICK HERE for the Financial Assistance Application- Turn in directly to the YMCA according to the instructions on the form OR you may turn it in to your club advisor who will send it in for you. Either way,IT WILL NOT BE PROCESSED WITHOUT THE REQUESTED DOCUMENTS. This is for scholarships provided by the YMCA.
JR YOUTH LEGISLATURE (Grades 6-8)
Junior Youth Legislature (Grades 7-8) is the best way for students to get a first-hand experience in Youth Government.  7th and 8th grade students are invited to attend this one-day event at the State Capitol where they will meet with other middle school students from all over Alabama for an introduction to the legislative process. Participants will have the opportunity to run for an elected office for the day, will attend workshops on the bill writing process and parliamentary procedure, and will join with three to five other students to come up with their own legislation (a bill) which they will present and debate as part of a mock-legislative session.
YOUTH LEGISLATURE (Grades 9-12)
Abby Garmany
First Year Pro Temp-ore

First Year Outstanding Delegate

Bill Author: "Hospital Funding Act" (signed into law by the Youth Governor)
YOUTH LEGISLATURE (Grades 9-12)
Madeleine Morgan
Outstanding Media Team Member

Media Liaison to the Supreme Court
YOUTH LEGISLATURE (Grades 9-12)
Precious Clanton
2024 Media Team Leader

Media Liaison to the First Year Chamber
YOUTH LEGISLATURE (Grades 9-12)
Malaki Sipsy
Senate Assistant Secretary
YOUTH LEGISLATURE (Grades 9-12)
Dominick Clausen
Sergeant at Arms

Chair of House Committee on Public Safety
YOUTH LEGISLATURE (Grades 9-12)
YOUTH LEGISLATURE (Grades 9-12)
YOUTH LEGISLATURE (Grades 9-12)
2023 Media Team
Madeleine Morgan - Media Liaison to the First Year Chamber

Jayden King - Media Assistant

Aubree Sipsy - Media Liaison to the Governor's Cabinet
YOUTH LEGISLATURE (Grades 9-12)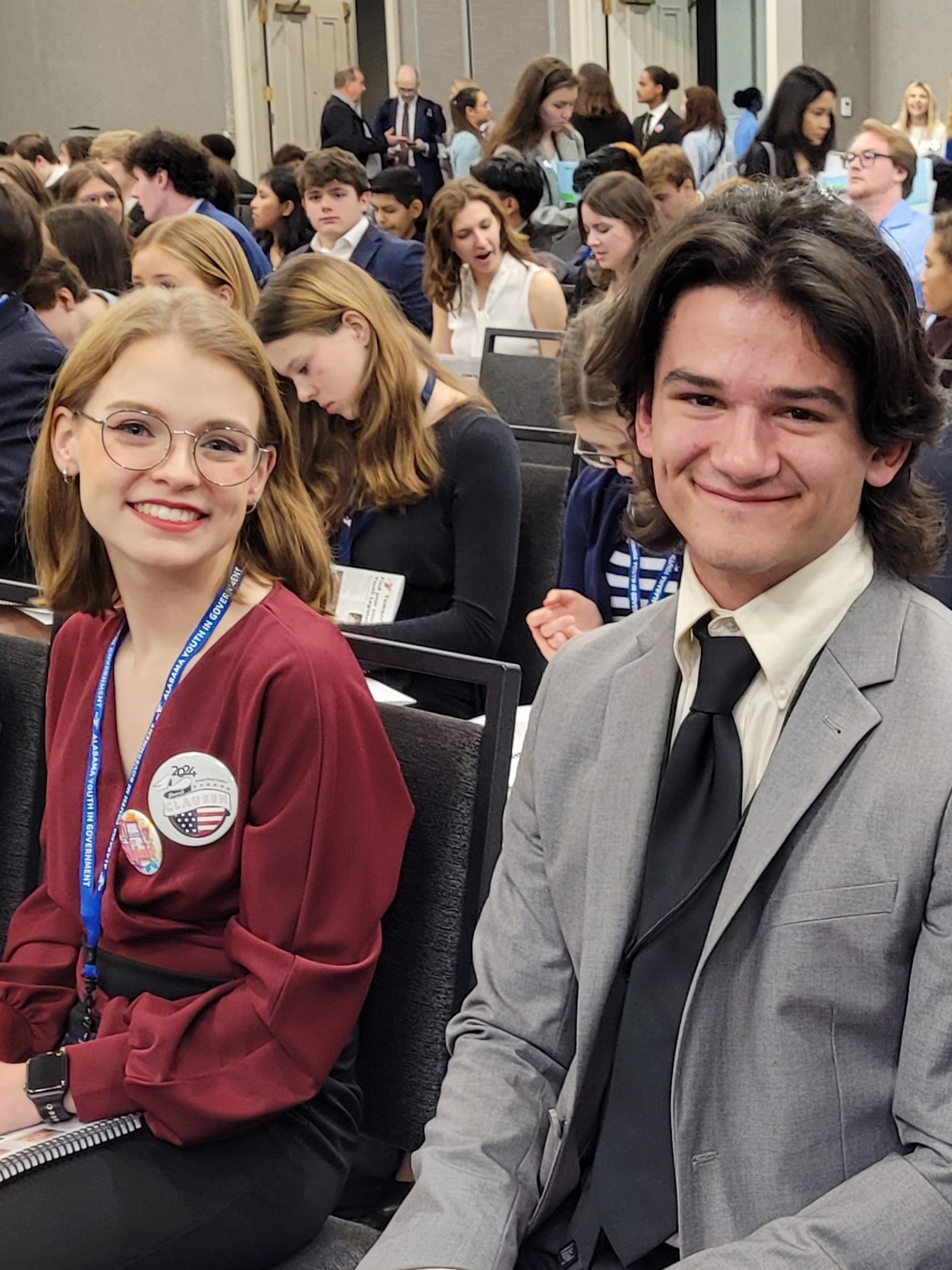 Amalia Rochell and Jack Noah Watson
Authors of House Bill "Meal Break"
YOUTH LEGISLATURE (Grades 9-12)
Reagan Tallent
Chair of First Year Committee #6 Education and Transportation

Author of House Bill "First Class Education."
YOUTH LEGISLATURE (Grades 9-12)
Jozalyn Woodall
Author of First Year Bill "The Living Wage Act"
MONTGOMERY, AL
November 6, 2022
Students from three Cherokee County schools showed off their law and leadership skills at the 43rd Youth Judicial Mock Trial Conference this past weekend in Montgomery. The Youth-in-Government (YIG) Club has been sending students to the competition since 2015.
Notable accomplishments for this year include Lydia Doster (CCHS) - selected to serve as a presiding Justice, Cole Robertson (CCHS) – selected to serve as a Deputy, Malaki Sipsy (CCHS) – selected to serve as a Bailiff and for the first time in YIG club history - Dominick Clausen received the Outstanding Attorney award (Sand Rock).
Two trial teams competed, and both made it to the final round after receiving a bye in round 5. Both teams finished in the top 28. Team 1 attorneys included Aubree Sipsy (CCHS) – Team Captain, Abby Garmany (CCHS), Ava Hammett (CMS); Team 1 witnesses included: Andrew Hayes (CCHS), Reagan Tallent (CCHS), and Angeline Welsh (CMS). Team 2 attorneys included Makenzie Mayo (SRHS) – Team Captain, and Dominick Clausen (SRHS). Team 2 witnesses included Precious Clanton (SRHS), Sara Huggins (SRHS), and Isabella Segura (CMS).
Schools from all over the State of Alabama participated in the competition including Vestavia Hills, Spain Park, LAMP, Montgomery Academy, Davidson, Hoover, Parker, and more. Trenholm State provided jurors for the competition.
YIG programs include:Youth Judicial,Youth Legislature,Junior Youth Legislature,Youth Conference on National Affairs, Youth in City,Christian Values Conference, as well as various Leadership training, retreats and more. NEW this year - teachers may acquire professional development credit in social studies.Contact Anita Nationat the Cherokee County Career & Technology Center for more information on how to join.
YOUTH GOVERNMENT CLUB ATTENDS 31ST ANNUAL JUNIOR YOUTH LEGISLATURE
Students representing three junior high schools (Centre, Cedar Bluff, and Sand Rock) recently attended the 31st annual Alabama YMCA statewide Junior Youth Legislature (JYL) conference.
JYL is a student-led model program geared specifically to junior high students who show an interest in public speaking, debate, and the democratic process.
Our students performed exceptionally well at the conference which hosts students from all over Alabama, including many model and private schools.
JR YOUTH LEG OUTSTANDING STATESMAN AWARD
Sorry, but there was nothing found. Please try different filters.